It's been a busy month for the book! We're a little tired, but excited!
I'll be at the Edmonds Bookshop for Art Walk this Thursday the 18th from 5 to 8 pm. The Edmonds Beacon is running an article on Cradle the same day. Shoutout to the Edmonds Bookshop for tremendous support and inviting me to be there for Art Walk. It's a fun event at venues around town. I'd love to see you! Drop by for a hello, a signed book, or a copy of my book-locations tour (link below).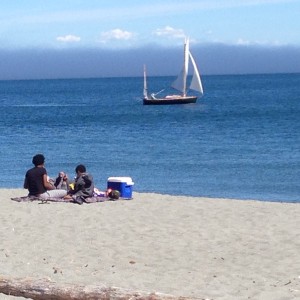 We just visited Fort Worden yesterday and came back so refreshed. As I stood in the clear water, I remembered how much we love this place, and how I wound up writing a book. It all started here.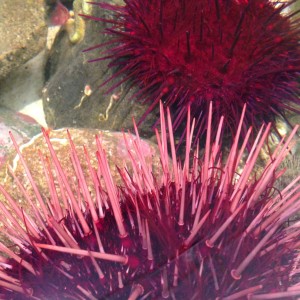 At the Marine Science Center, we found yet again a combination of wonder, water, and learning as we touched urchins and watched delicate arms move in slow-motion as plumed beauties fed.
Chester danced in the surf, scattering sand and saltwater, and smaller dogs. I always look under the dock as we leave. Today, small black fish darted through beams of light and shadow.
Otters often play here, sometimes murrelets and always plumy white anemones waving from their anchors on the pier. The kingfisher clacked and complained, as always. The air and sky? Tough to describe such clear air and true blue, or how good it is to watch small children build sandcastles and teens jump in the cold water, or throw each other in, then scream and run out again… and repeat.
Many of the book's events happen right here, where Lucy lived. Here's the simple, un-pretty version of the self-guided tour. I want you to have it while it's still summer. My ideal version has photos, designs and artfulness. But, oh well. I'll try and put up more fancy soon. This is one page (double sided) and easy!
Do go if you can! Can't beat Fort Worden beach on a sunny day!
Pertinent Points
We got up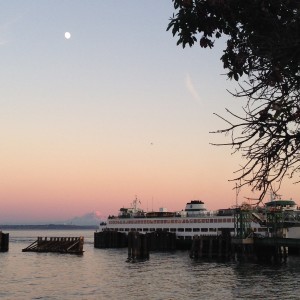 early and drove right on the 7:50 ferry (7:10 on summer Saturdays). The early hour is worth it to avoid a long wait. On the way back, we did wait an hour in Kingston – but there's ice cream, coffee, and a wow view of Mount Rainier, also a nice park area.
We stopped briefly in Port Gamble – equal parts moody and lovely in the fog. The dahlia test garden is overflowing and we all loved it.
On the tour page, I say you can do the loop in a day. You'd have to be fairly brief in each spot (which we are incapable of on a warm summer day). Probably best to spend a long day on one side – Port Gamble, Chimacum, Port Townsend. Then give yourself the gift of a day on the other side of the water taking the Mukilteo Ferry to Whidbey Island for Fort Casey, Ebey's Landing (Double Bluff for dog park) portion. Plenty to see there as well, and gorgeous views and hikes. Bring kites if you're going to Fort Casey!
Many of these places have reduced hours after Labor Day or are closed (Marine Science Center). You can enjoy great walks and beaches and see the locations, but might not find as much to do. Depends on whether you're a sunny day, crowds and activity type, or perhaps a fall-to-winter, blustery, more solitary type. The locations are there and easy to find in any weather.
If there's enough interest, I may do a guided tour in fall of the locations. Please let me know if you're interested by leaving a comment through my contact form.