All the events so far have been beyond expectation, selling lots of books, and meeting wonderful readers and booksellers. The event at the Edmonds Bookshop sold all copies on hand (I guess that was a first!).
A big thank you (it's thanksgiving in Canada!) to all of you for giving the book to friends and family, who've recommended it to others. I'm particularly grateful to readers who've let me know how much they enjoyed the story and characters.
PLACES, FACES, APPEARANCES
I took a little time away with my sons, before both moved for work and school. My eldest son and I enjoyed the newly reopened Smith Tower.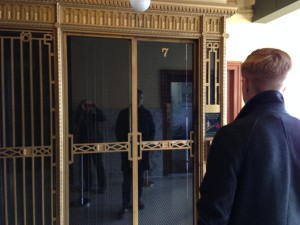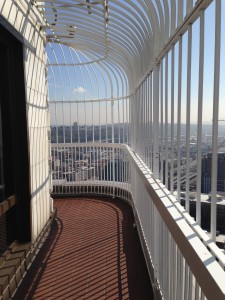 I'm glad to have the book, Steve, Chester and friends to keep me busy as I'm missing them both very much. Back to work!
November 19th I'll be at the Langley library on South Whidbey. The libraries on Whidbey have been fantastic with their enthusiasm and support. Time tbd.
I'll speak at Freeland library in January, and have also been invited to an author event at the Jamestown S'Klallam cultural center that month—dates TBD.
Eagle Harbor bookstore in Bainbridge has invited me to speak, possibly in schools. I'm working on fun ways for students to interact with the material.
A friend and I visited Bainbridge yesterday to drop off books, enjoy the great fall color, eat soup and drink coffee of course! Chester enjoyed all the kind people who said hello at his level. Great day trip.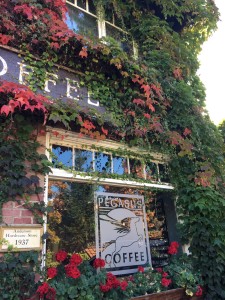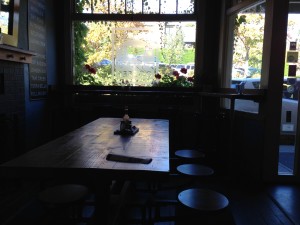 (Above: Pegasus Coffee, Bainbridge)
In a Library Near You: A friend donated several copies to Sno-Isle libraries, and I've started donating a copy to locations where I'll be speaking. So far: Edmonds, Langley, and Freeland. A copy for Bainbridge should arrive soon.
TO ORDER OR NOT?  AND REVIEWS, PLEASE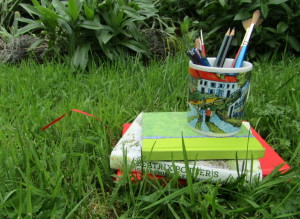 I'd love to post on Goodreads, but need reviews on Amazon to qualify. If you are one of the kind souls who has told me how much you enjoyed the book, could you please post a review on Amazon (or on Goodreads once I have a page)? Many Thanks.
We've only got one box of books left! That's about 200 books sold in a few months through limited release. 🙂  I have enough for the next few readings, but if you are thinking of buying a book for the holidays, I'm trying to decide if I need to reorder before January. Also, if you've spotted any mistakes, please let me know. (contact form to the right)
Thank you for considering buying from a bookstore or my website (also to the right), as I still pay all the costs, but get almost nothing if the book is purchased from Amazon. I offer competitive pricing and free shipping to US addresses.
Now Available at: Edmonds Bookshop, Eagle Harbor Bookstore, Fort Worden Gift Shop, Village Books, and the libraries listed above.
Enjoy the Fall Color out there! Or a nap at home.