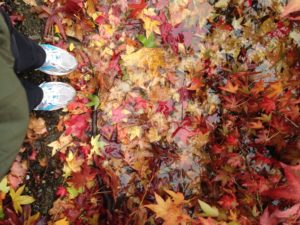 The leaves are turning to gold here in the Pacific Northwest, and it's time to turn toward fall projects and get some work done!
After focusing most of last year on promoting Cradle in the Waves, I've turned to other projects that have been around almost as long.
I've been working away on a twin-timeline story set in Seattle in 1918 and 1969. I'm hoping to finish the book in time for the 100 year anniversaries of many of the events involved (World War 1 and the Great Influenza).
I'll have to admit, continuing to work on a novel over the long haul can be daunting. I'm hitting a place I remember well from A Cradle in the Waves, where you think, "Who will be interested? Is it a compelling read or just history? Or, is it great history, but not so great a story?"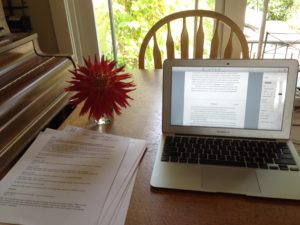 Cradle emerged from the long process of taming my creative scatter into something whole, and many readers seem to enjoy and relate well to both the story and the history. Kind comments from friends, family and readers help keep me going when in doubt. 
Thank you, thank you, thank you, to each and every one of you for taking the time to express interest or enjoyment. And all the best to you in whatever work or life situation needs persistence and grace to complete, especially as we face the shortening days of fall.
In spite of my focus on other work, Cradle in the Waves has continued to make its way in the world. I'm particularly grateful for several stores that have faithfully promoted the book: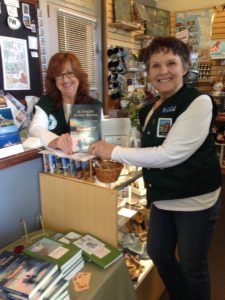 Those of you who've read the book know that Lucy's house sits at the site of what is now Fort Worden. The staff at the Fort Worden Gift Shop (all volunteer) keep ordering my book and promoting it, and selling out! I'm so glad that they've read and enjoyed the book, and feel comfortable recommending it to others. If you haven't visited Fort Worden in Port Townsend, it makes a wonderful day trip for exploring the trails, bunkers, old buildings, playing in wide-open fields or walking on the sandy beach. You can also take dogs on leash there, or off leash at North Beach, which is a little beyond Fort Worden, but easy to access.
Another lovely friend to the book is Mary Kay Sneeringer, owner of The Edmonds Bookshop. She and her staff keep recommending the book, and most recently sent a copy to the Edmonds Library for a local author table. Mary Kay and her staff qualify as heroes in the book world, generously promoting and supporting reading and literacy on so many levels. 
Thank you, thank you, Friends of Fort Worden and The Edmonds Bookshop.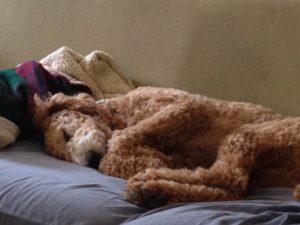 We've had a new arrival with Archie, the poodle puppy we re-homed in March. Chester had been very lonely since our children moved for school and work a year ago (mom might be a touch empty-nest too). Archie has kept us outside, active, and happy with his crazy antics. Two dogs equals puppy pandemonium, but they are a gift most moments of the day. They may have convinced me to put a bit about a dog in the WWI book.
I'm still learning to sketch and now add a little watercolor at times. Mostly I'm reaching…sometimes, things gel. Always, art rests my wordy brain and lifts my spirits when weary of the world. A quick sketch of Archie dreaming: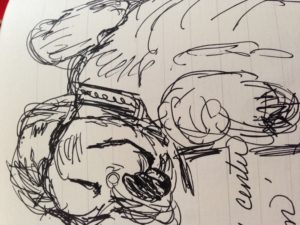 Here's to a new season, and refocusing on goals, wishes, and dreams.
I welcome questions on any of my projects, and am always glad for readers of early versions of my novels. Feel free to message me or check out my Facebook page.
All the best!
Anne-Marie Heckt