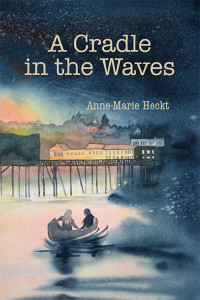 Welcome to my new author site: Anne-Marie Heckt – A Writing and Gardening Life. I'm excited to share the cover art for my novel, which will be coming out in a few months! I will be posting all kinds of images, history and insights into the time of the novel (1862) and the place (Port Townsend, among others) as time goes by. But for now, the cover.
A big shout-out to Nina Noble, my designer. I chose Nina for her professional layout skills, and then learned that she's a gifted artist and mapmaker! The book will be far richer for her contributions and I'm very grateful. It's exciting to see the pieces evolve and I can't wait to see the whole project once it's complete (probably by early June). You never know how something will come out, or if another person's vision matches your own. I'm so pleased with this cover and how well it matches the story.
Here's Nina's info:
Nina Noble Design is a full graphic design service studio. For about 18 years I've been designing book covers and book interiors, magazines, maps, websites.
I work with my clients to create visually compelling design in print, web & branding for their business or creative venues. I enjoy working with my clients, collaborating on the projects together, learning more about the world and us, people. For some examples of my work, please visit
www.ninanobledesing.com